Gongol.com Archives: May 2012
Brian Gongol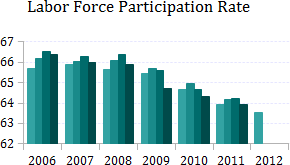 Fewer people are doing all the work
That's America's labor-force participation rate, measured from quarter to quarter. It measures the number of people who are working out of the total adult population (ages 16 and up). The number hasn't been this low since the early 1980s (when the trend was on the way up, thanks to Baby Boomers still joining the workforce). This graph undoubtedly shows the start of the retirement wave and just how quickly things are already changing. So...for those people still working, if you feel like there's nobody left around the office or the shop, it's not just in your head. And, by the way, it's happening much faster than the forecasts predicted. Just a decade or so ago,
government forecasters expected
the rate to remain above 63% until at least 2025. We could very easily drop below that number this year.

Fisher House: A great charity for the week of Memorial Day
The Fisher House Foundation ensures that
military families have someplace to stay
when their loved ones in the armed services are hospitalized. Given the solemnity of Memorial Day, it's a highly worthwhile charity. Also worth considering for your charitable dollars: The USO, which provides
entertainment and other relief services
to active-duty members of the military. Both are
outstanding charities
.