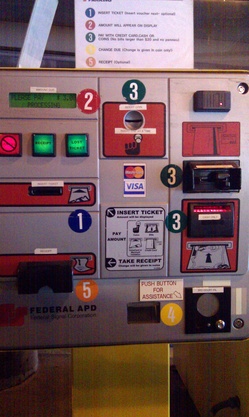 In how many ways does this automated payment machine in a downtown parking ramp fail to make the grade? Let us count just some of the ways:
No sensible person starts looking for step #1 in the middle of something.
The first-time user probably doesn't expect to be forced into a round-robin experience looking for the next step.
There is no step number three. There are steps 3, 3, and 3.
One of which, by the way, requires that the user insert the credit card upside-down, with the magnetic strip facing up.
The button to request a receipt is between steps 1 and 2 -- but the slip pops out under step #5.
This is, quite possibly, the worst-designed automatic payment terminal on the planet. It should be obvious from the need for a five-step instruction guide (seen on top of the machine) that whomever designed the machine put next to no thought into how the first-time (or even the 101st-time) user would expect the machine to communicate in a clear, concise fashion. If something as simple as paying a parking fee requires following a round-robin layout like this, then something is totally wrong with the design. A parking payment kiosk needs to be quick, intuitive, and easy to use -- or else it's just a way to create traffic jams behind the confused user trying to pay his or her way out.